What is an expo?  Its' a quick one day mini conference. We are listing 3 here that are in various parts of Clear Lake, Spring and  Kingwood.  So pick the one close to you or head across  town for the one that matches your family better.
The first one is  in Spring and has lots of extra events involved with it.
The 2016 Homeschool Family Expo featurs a Student Commerce Fair, Student Literature Fair, and a Family Social will take place on Saturday, February 27, 2016 from 10am – 4pm at the Klein ISD Multipurpose Center located at 7500 FM 2920 Rd, Spring, TX 77379. This event is open to all Homeschool Families in the Greater Houston area.
Next comes the one in Clear Lake from the Gulf Coast Christian Homeschoolers: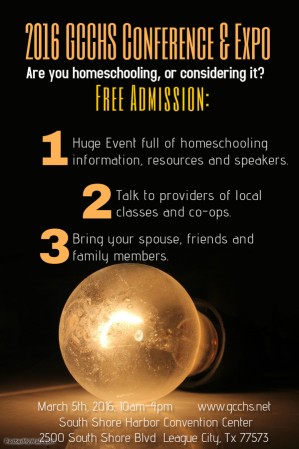 And finally the Kingwood H.O.M.E. Expo on March 7th: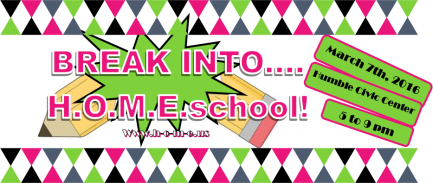 And if you don't need any of these Expos, you can still bless the groups.  Bring a friend, or email a friend, who is considering homeschooling or who has been wanting to visit a conference but did not want to expend the $40 to attend.  These are all free for the folks who come through the door.  Can't beat that price, and they make a great Mom's Day Out to visit with friends and be encouraged.